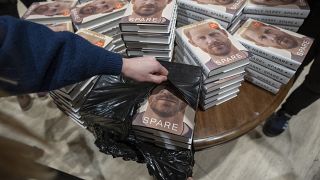 Copyright

Kin Cheung/Copyright 2023 The AP. All rights reserved
-
Prince Harry's memoir "Spare" has officially been released in bookshops around the world after days of leaked bombshell claims and carefully-selected press interviews.
Some UK bookshops opened at midnight to meet the demand for the highly anticipated memoir, which has generated incendiary headlines with reports that it includes details of bitter family resentments, as well as the Duke and his wife Meghan's decision to give up their royal roles and move to California.
"Everything is context," Chris Imafidon, chair of the Excellence in Education charity, said, who was first in line to buy the memoir at a WHSmith bookshop in London. 
Australian traveller Sasha Purcell said: "I expect to be able to read more about the truth of what goes on behind the palace walls. 
"I feel like they are a notoriously secret family."
"I want to hear his story in his words," customer Sarah Nakana said. 
"Because at this point I feel like the British media are radicalising the British public against Prince Harry."
Prince Harry has recently accused his stepmother, Camilla, the queen consort, of leaking private conversations to the media to burnish her own reputation as he promotes the book that lays bare his story of life behind palace walls.
In interviews broadcast Sunday and Monday, Harry accused members of the royal family of getting "into bed with the devil" to gain favourable tabloid coverage, singling out Camilla's efforts to rehabilitate her image with the British people after her longtime affair with his father, now King Charles III.
"That made her dangerous because of the connections that she was forging within the British press," he told CBS. 
"There was open willingness on both sides to trade information. And with a family built on hierarchy, and with her on the way to being queen consort, there was gonna be people or bodies left in the street;" he added.
For more watch Euronews' report in the video above.