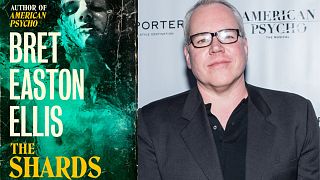 Copyright

Swift Press, AP
-
One of the biggest literary events of 2023 occurs today (17 January), when Bret Easton Ellis' first novel in 13 years, 'The Shards', finally gets released.
The American author best known for his controversial 1991 novel 'American Psycho' returns with a fictionalized memoir of his final year of high school in 1981 in Los Angeles - his first since 'Imperial Bedrooms' in 2010.
The novel was first serialized by Ellis as a 27-part audiobook released between September 2020 and September 2021 through the "Bret Easton Ellis Podcast" on Patreon.
Reviewing the audiobook for The Times in 2021, Theo Zenou called it Ellis' "weirdest, most interesting work in years."
'The Shards', now in print form, follows a prep school senior, Bret, writing a novel called 'Less Than Zero' (a bit of mise en abyme, as that's the title of Ellis' 1985 debut) who navigates his feelings and desires while a serial killer nicknamed The Trawler lurks around campus.
We've all been there.
His eighth work of fiction feels like a return to the atmosphere of Ellis' 'Less Than Zero' and his second novel 'The Rules of Attraction' (1987), which both followed private school kids indulging in parties, drugs and sex and trying to feel… well, something. Ellis' trademark use of cineliterate references, his nihilistic portrait of youth, and his impactfully graphic depictions of violence and eroticism are all present, as well as some not-so-veiled criticism of unchecked and vapid privilege.
Sam Byers in The Guardian called it not just "Ellis's strongest novel since the 90s" but also "a full-spectrum triumph, incorporating and subverting everything he's done before and giving us, if we follow the book's ingenious, gleefully self-aware conceit, nothing less than the Ellis origin story."
Brace yourselves, because this could be the novel that grabs a still young 2023 by the collar and shakes it a bit too much.
Bret who?
If you're not familiar with Bret Easton Ellis, he's a self-proclaimed satirist who writes extreme acts and opinions in what can only be described as an affectless style. 
His books echo one another, with Ellis often using recurring characters and settings which often make 'cameo' appearances, and his comments on society and the arts have led him to become one of the most controversial figures in modern culture.
His transgressive third novel, 'American Psycho', was the one that truly propelled him into the spotlight. 
Upon its release, it was widely condemned as being too graphically violent, outright misogynistic and got him labelled as a sadist. Petitions were signed to ban the controversial book, "a contemptible piece of pornography", and Ellis was dropped by his then publishers Simon & Schuster because of "aesthetic differences". The controversy led to death threats, and American publishing house Alfred A. Knopf decided to release it as a paperback.
Bans followed around the world. The book was named the 53rd most banned book from 1990-1999 by the American Library Association, and its sale and marketing in Germany was restricted from 1995 to 2000.
It became a cult hit and reappraised as a black comedy, a satire of Regan's America, and a postmodern critique of capitalist consumption - especially after the 2000 film adaptation directed by Mary Harron. The film starred Christian Bale as Patrick Bateman, the anti-hero of the novel who is a materialistic yuppie who leads a secret life as a serial killer.
Several of his books have been successfully adapted to the big screen: Less Than Zero (1987), directed by Marek Kanievska and starring Robert Downey Jr., The Rules of Attraction (2002) directed by Roger Avery, and The Informers (2008) by Gregor Jordan. 
He also wrote the much-maligned screenplay for the Lindsay Lohan-starring 2013 erotic thriller The Canyons, directed by Paul Schrader.
Over the years, the author has toyed with people attempting to label him.
Ellis was asked in an interview in 2002 whether he was gay, and he explained that he did not identify as gay or straight, but enjoyed playing with his persona, identifying variously as gay, straight and bisexual. He told interviewer Robert F. Coleman that he had an "indeterminate sexuality" depending "on the mood I am in."
He has also become an outspoken liberal-baiting and "anti-woke" persona, who calls out Millennials and Gen-Z as obsessed with victimhood and cancel culture.
He's not one to hold back and many have referred to him as a pariah and one of the US' finest cultural critics for some of his views on the American psyche. Others have labelled him an ignorant sexist who jumps on any occasion to spew out nonsense.
Whichever side you take, controversies are never far.
Here's a quick recap of some of his hot takes, controversial outbursts and more polarizing moments.
David Foster Wallace isn't to his liking
In his review of the David Foster Wallace biography, Ellis described the American author behind 'Infinite Jest' (1996) and 'The Pale King' (posthumously released in 2011), who took his own life in 2008, as "the most tedious, overrated, tortured, pretentious writer of my generation." 
He went on to say that "David Foster Wallace carried around a literary pretentiousness that made me embarrassed to have any kind of ties to the publishing scene…"
He has criticized many other writers, including Alice Munro and her Nobel Prize win:
"Alice Munro was always an overrated writer and now that she's won The Nobel she always will be. The Nobel is a joke and has been for ages..." he wrote on Twitter, before posting the following comment in response to the online hate generated by his opinion: 
"The sentimental hatred for me has made me want to re-read Munro, who I never really got, because now I feel like I've beaten-up Santa Claus."
Neither is 'Glee'
Ellis wrote in 2011 about Ryan Murphy's show:
'I like the idea of "Glee" but why is it that every time I watch an episode I feel like I've stepped into a puddle of HIV?'
He also wasn't a fan of Modern Family:
"If you think Modern Family has a progressive attitude about gayness then you're a retrograde tool. The fact that it's being lauded: a joke."
Many of his comments got him into hot water with GLAAD (Gay & Lesbian Alliance Against Defamation) in 2013, as well as an article he wrote for Out Magazine, in which he called the organisation "the gatekeepers of optically correct gayness."
His thoughts on Hurt Locker director Kathryn Bigelow
"Kathryn Bigelow would be considered a mildly interesting filmmaker if she was a man but since she's a very hot woman she's really overrated."
He thinks he gets more abuse as Black women
Speaking on Channel 4 News in 2019, during the promotion of his non-fiction book 'White' (more on that one in a bit), the author stated:
"I get so much crap on Twitter, so much crap on Twitter. Probably much more than a Black woman gets", he said in response to the claim that bigoted trolls are barred from platforms when they target marginalised groups like Black women.
"You can't be that racist on Twitter without people calling you out and having your things cancelled and having your account blocked. I don't think that is happening, that's not happening anymore", he continued.
White
One of his most controversy-baiting moments was with the release of 'White' in 2019, his first work of nonfiction which became a lightning rod.
Through his essays in the book, Ellis slams liberal outrage ("the Left had become a rage machine, burning itself up"), millennials ("Generation Wuss" – even if he was living with one, the 32-year-old musician Todd Schultz), Black Lives Matter ("a millennial mess with no sense at all of forming a coherent visual idea or style") and, bizarrely, Oscar winner Moonlight ("When did people start identifying so relentlessly with victims, and when did the victim's world view become the lens through which we began to look at everything?").
A missile aimed at political correctness, 'White' was a memoir / social critique that served as conservative catnip and attracted the attention of Trump backers, specifically when he labelled Hillary Clinton supporters "spoiled children at a birthday party when they didn't win the relay race."
Ellis was seen as defending Trump – despite saying that he was not Trump supporter – in certain passages, and also took Roseanne Barr and Kanye West's sides.
This marked the moment when Ellis lost some of his readership and gained a whole new batch... 
The new Bateman fans
Swings and roundabouts...
Gen Z and "anti-woke" men have become obsessed with the misogynistic Patrick Bateman from 'American Psycho', embracing him as something of a role model.
During the pandemic, many have unironically co-opted Bateman as a poster boy for crypto bro philosophy and gym aesthetics. Social media and platforms such as 4chan, Reddit or TikTok have seen in him a reflection of the modern culture's obsession with sex, money and physical appearance. 
Bateman has also been co-opted by misogynists and trolls, who have failed to see him as a parody of themselves and all they stand for, something which comes back as criticism levelled at the infamous book and its author.
'The Shards' by Bret Easton Ellis will be released on 17 January 2023.