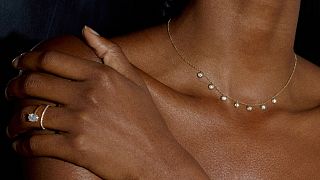 Two street names have long been synonymous with luxury jewellery in London: Hatton Garden, in the capital's historic centre famed for its rows of diamond specialists since the 19th century, and Bond Street, known as "Europe's most expensive shopping street" and home to Tiffany's, Cartier, De Beers and more.
You might expect these to be dream retail spots for young jewellery brands but a new wave of designers is purposefully distancing themselves from the old guard. A little north of Bond Street, in the Fitzrovia and Marylebone neigbourhoods, recent boutique openings, including Matilde Jewellery and Lark & Berry, are appealing to a new demographic of jewellery shoppers with lab-grown diamonds.
The newest opening in the area is Kimaï, who pair lab-grown diamonds with recycled gold. The store sits on Chiltern Street, characterized by upmarket indie stores, the hip Monocle magazine café and celebrity hangout Chiltern Firehouse. 
Kimaï co-founder Jessica Warch, whose family work in the diamond industry in Antwerp, says: "The Bond Street jewellers wasn't at all what we wanted to represent. Chiltern Street feels up and coming. It's not a traditional jewellery spot, so it's much more chilled. It doesn't feel intimidating."
Laura Chavez, founder of Lark & Berry, opened her store around the corner on George Street in 2018. At the time, it was the first store exclusively selling lab-grown diamonds in the UK. "It's really exciting [to see more brands opening stores in the area]. The more people that do this, the better for everyone, because then more people know about it and you get all sorts of different designs," says Chavez.
A new kind of diamond customer
Most importantly, this vibrant part of London is teaming with the type of clientele who are attracted to lab-grown diamonds. Both brands identify their core customers as aged between 25 to 40 and predominantly female, many of whom are buying jewellery for themselves.
Lab-grown diamonds, though physically identical to ones created by the earth, can cost between 60-70 per cent less than a stone of the same size, making it a more affordable way to access luxury.
Melanie Larsen, strategist at trend forecaster WGSN Insight, explains: "As it stands, man-made and naturally mined diamonds are mostly bought as fine jewellery pieces or as engagement rings, however, with the lab-grown diamond market gaining traction, consumers will start to view them as fashion pieces due to their accessibility and great quality."
Sales of lab-grown diamonds have jumped from 4 per cent of the overall diamond market in 2019 to 10 per cent in 2022 according to WGSN.
Warch says it's creating a whole new approach to jewellery: "If you look at campaigns (from traditional fine jewellery brands), everyone is dressed up as if they're going to a gala. We wear sneakers, denim and our diamonds."
Despite the increased accessibility of lab-grown diamonds, there's still demand for engagement rings. According to a 2018 report by MVI Marketing, 70 per cent of millennials are considering lab-grown diamonds for engagement rings. 
Both Lark & Berry and Kimaï expanded their businesses to include engagement rings in response to demand.
"A lot of people say, I might as well get something bigger, nicer and cheaper. It's still gonna last forever, it's still gonna be a diamond and you can spend the other money on an experience like a better honeymoon," says Chavez.
Ethical companies, ethical diamonds
Not only are consumers valuing experiences more, they're also looking to invest in ethical companies. It is currently challenging for consumers to know the origin of mined diamonds due to the many steps it goes through and the number hands they pass through before reaching the store. 
Kimaï, instead, promises total traceability. They work with labs in Israel who they visit and remain in close contact with. 
The labs use renewable energy to create the diamonds and the social and environmental sustainability of their jewellery is a core tenet of the company.
"Value is somewhat subjective," explains futurist Geraldine Wharry. "There is that customer out there that is seeking a sustainable option and it's reconditioning the market in how it sees rare earth minerals and precious stones." 
"The audience for lab-grown diamonds is sustainability conscious, not just meaning extracting less from the planet but also extracting less from people and providing good working conditions. It's a consumer that has a perception of value that is emotional to them. They see this item as something they perceive as clean and pure," Wharry continues
The innovation offered by lab-grown diamonds is another selling point for some consumers. In March, TAG Heuer revealed its most expensive watch to date, created with 11.7 carats of lab-grown diamonds. 
The luxury brand says that the design would not have been possible with mined diamonds and has used the technology to push the boundaries of watch design.
Once dismissed by the jewellery industry as a cheap knock-off of mined diamonds, the growing popularity of lab-grown diamonds as both a fashion item and luxury purchase reveals an interesting picture of what younger generations value. 
While it's unlikely they'll ever entirely replace mined diamonds, it poses a challenge to the old guard to embrace values around accessibility, sustainability and innovation to stay ahead.