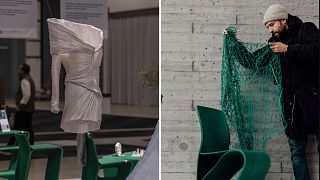 -
Copyright

AP Photo/Interesting Times Gang
Scandinavia's largest design fair, the Stockholm Furniture Fair, is underway and it's clear that sustainability is at the forefront of designers' minds this year. 
The annual fair is one of the most prestigious furniture exhibitions in the world, which showcases the latest trends and innovations in furniture design and production.
This year's event, which coincides with Stockholm's Design Week, is not just about showcasing new furniture pieces but also about promoting environmentally conscious practices in the industry.
Here's some incredibly innovative examples from this year's show of how designers are working to create a more sustainable future for all.
Waste to wonder
One of the standout companies at the fair aims to show how waste can be reused creatively. 
Called "Closing the Loop" the exhibit displays some of the projects it has completed with the fashion industry: for example, old jeans recycled to become hangers for the same brand.
The exhibition was created by the Solaris Community, a circular-chain platform initiated by the United Nations ESCAP (Economic and Social Commission for Asia and the Pacific) in 2019.
Originally, the platform helped designers reuse the plastic that is dumped into the ocean to create furniture or fashion garments.
Now, the platform is trying to recycle waste before it ends up in the ocean, collaborating with brands directly to find solutions to reuse their waste.
For example, in 2022, in collaboration with Balmain, the platform provided a circular solution for transforming Evian water bottles into a fashion collection:
"We found this very cool collaboration to recycle the waste form Evian bottles, and to produce products underneath the Balmain brand. And of course it's a luxury brand, we have to maintain the high quality, the high standards, so that's the cool part," explains Zehao Liu, the founder of Solaris Community. 
The world's most environmentally friendly furniture factory
The winner of the fair's Sustainability Award of the Year 2023 is Vestre, for their sustainable furniture factory "The Plus".
In June 2022, Vestre opened The Plus Colour and Wood Factory in Magnor, Norway.
The factory, which has been designed by the leading architect firm Bjarke Ingels Group, is an environmentally friendly furniture factory. The stunning building has been recreated in Lego for the fair.
The building ensures good working conditions, facilitates electrified heavy transport, it has 900 solar panels on the roof, and reuses most of the water used in the production.
"We have built a building for the next hundred years, not for the next couple of decades, but we are actually investing in the future. And we believe that industry and sustainable manufacturing belongs together and we also wanted to create a site where the Greta Thunberg generation meets industry people, that it's possible to connect both of them," says Marianne Preus Jacobsen, Sales and Project Manager at Vestre.
3D printed furniture made from fish nets and wood fibre
As part of Stockholm's Design Week, which runs from 6-12 February 2023, environmental design company, Interesting Times Gang, have opened up their studio to the public to showcase their "circularity designs". 
With their "Kelp collection," the studio has created circular furniture, which is 3D printed in bio composite from recycled fishing nets and wood fibre.
According to the studio, the resulting green objects can be ground down to create new bio-materials that can be reused again and again, to create entirely new objects within a closed design loop.
But for Sean Barrett, Head of Innovation at Interesting Times Gang studio, doing better is not as easy as it sounds: "The more you try to solve a specific challenge, or a problem, around a material or around a waste stream, it opens up a new door of challenges that you didn't previously have to consider. There's always something that you think improves the system and then the more aspects of the system that you try to take responsibility for, the more you understand that there are challenges that often can't be solved."
Indeed, when producing these chairs, he realized that the current system to recycle these objects made partly out of fishing nets and partly out of wood did not exist.
In Sweden, getting rid of one of these chairs would mean burning it and using energy.
Now, Barrett is working on using seaweed to replace any unrecyclable materials.
Interesting Times Gang studio also uses advanced technology to obtain sustainable designs such as this table Aibio, which is the result of a collaboration with generative AI and 3D printed in wood-based composite.
"I think it is a very interesting time to be in the business right now and it is a very interesting time to be alive in the design world because I think it's been like a standstill in Swedish design for a while, but now things are really starting to happen," says Alexander Westerlund, Head of Design at Interesting Times Gang.
The Stockholm Furniture Fair is open from 7-11th February 2023 and the Design Week runs from 6-12 February 2023.