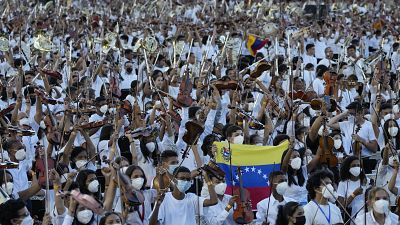 -
Venezuela entered the Guinness Book of World Records for "the world's largest orchestra" after 12,000 local musicians performed Tchaikovsky's 'Marche Slave', beating a 2019 Russian orchestra of 8,097 musicians.
Sunset in Caracas was accompanied by hundreds of violins, violas, and double basses on November 13, as thousands of Venezuelan musicians from the age of 12 to 77 gathered in the courtyard of the Venezuelan Military Academy.
"If you break a string, don't stop. If you lose the score, go on by heart, but don't stop," conductor Andrés David Ascanio said before the performance.
The musicians, all from the country's network of youth orchestras, performed a 12-minute Tchaikovsky piece outdoors under the watchful eyes of 260 independent supervisors with the job of verifying that more than 8,097 instruments were playing simultaneously, which would break the current record.
The rules to set a new record also included not sharing instruments and playing for at least five minutes during the score.
Each musician was given a numbered bracelet and an assigned seat based on their instrument to facilitate counting them.
The performers were brought together by the nation's publicly funded 'El Sistema' program, which was founded in 1975 and has since provided classical music training to some 350,000 working-class children.
Gustavo Dudamel, the music director of the Paris Opera and the Los Angeles Philharmonic, is one of its most notable alumni.
The Venezuelan orchestra's repertoire included the pieces 'Venezuela' of Pablo Herrero and Jose Luis Armenteros, the South American country's national anthem, and Pedro Gutierrez's 'Alma Llanera', which Venezuelans consider their nation's unofficial anthem.
Tchaikovsky's 'Marche Slave' is part of their musical education throughout their time in the youth orchestra network.
Still, they began rehearsing it with their regional groups ahead of the concert two months ago.
On the night of the performance, macaws flew overhead as the young musicians followed Ascano's instructions displayed on a large screen.
"It's the first time in my life that I have experienced seeing the conductor on a screen, but we adapted quite well," said 21-year-old violinist Ernesto Laguna, who traveled nearly 450 kilometres from the western city of Coro.
The percussion came in with booming cymbals during the dynamic central section of Tchaikovsky's 1876 work, which mixes Slavic, folkloric, and nationalistic elements.
When the score was finished, many of the musicians released their emotions by raising their instruments to the sky and waving Venezuelan flags.