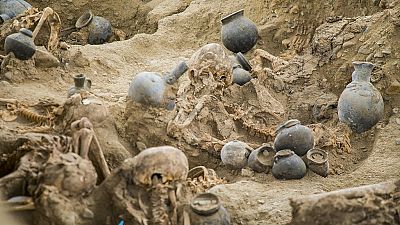 -
The remains of twenty-five pre-Columbian (before the arrival of Columbus in 1492) people have been discovered in an ancient mass grave in Peru.
Dozens of ceramic vessels and objects were also found by archaeologists in a tomb at Chan Chan which is five hundred kilometres north of the capital Lima.
The actual tomb was discovered about three weeks ago.
The skeletons of mainly young women and children and some men are almost in tact.
Experts say there's no evidence these people were human sacrifices but could be part of the elite Chimu.
Chan Chan was a citadel of the Chimu culture which prospered between the years 900 and 1450 before falling to the Incas.
The citadel site has been a UNESCO World Heritage Site since 1986 AND it's on the list of World Heritage in Danger.