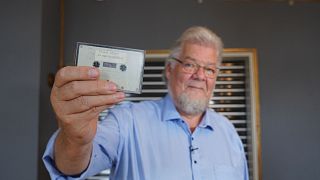 -
A previously unheard 1970 cassette recording of John Lennon and Yoko Ono has been sold for €50,000 in the Danish capital Copenhagen on Tuesday (28 September).
The 33-minute audio recording has been untouched for over 50 years and features a performance of a never-released song and an interview conducted by four Danish schoolboys.
Over half a century later, the classmates - now in their late 60s - have decided to put the old-fashioned white cassette tape, plus a collection of photos from the chance encounter, up for sale.
"All of us are turning 70 now, so we believe the tape will be of better use if it comes out into the public, a collector might enjoy it rather than it being in a safe where we've kept it for so many years," said one of the four friends, Karsten Højen.
Bruun Rasmussen, the auction house responsible for the sale, say the buyer was international and bid over the telephone. No other details have been revealed at this time.
The recording was produced under very lucky circumstances
Lennon and his wife arrived in snowy Denmark in December 1969 to visit Ono's then five-year-old daughter Kyoko.
Word eventually got out the two were in town, so they staged an impromptu press conference in Thy, Northwest Jutland in January 1970.
The four teenagers convinced their headteacher to let them skip class and travel to the event, hoping to meet their idols and write about it in the school paper.
"On Sunday we sat down, during the evening, and came up with a long list of arguments for why we should be allowed to leave school," laughed Højen.
The unique recording - made using borrowed sound equipment from a local hi-fi store - captures a relaxed, wide-ranging conversation. They discuss hair, Lennon and Ono hum to Danish Christmas songs. At one point, Lennon plays guitar and sings anti-war song "Give Peace a Chance", followed by unreleased track "Radio Peace".
"It was just a relaxed and cosy atmosphere, some of them had their feet up on the table," recalled Højen.
"Because we were these young teenage boys around 16 years of age, we were a bit more shy than the journalists that were left, but also more positive to the peace message that Lennon and Ono were promoting," said Højen, who held the microphone, while friend Jesper took photographs.
Less than a year earlier, Lennon and Ono had staged their famous "bed-in" protests against the Vietnam War in Amsterdam and Montreal.
During the interview, Højen is heard asking the Beatle; "How do you think people like me can help you make peace around the world?"
"Go imitate what we do," responds Lennon. "Imitate what we do locally."
How much was the tape expected to sell for?
The cassette tape, which features a misspelt "John Lenon" scribbled on its side, has been stored in a safe deposit box since 2002, when the friends became aware of its potential value.
Copenhagen auction house Bruun Rasmussen is selling the cassette, over 20 accompanying photos, and a copy of the school magazine in which Højen wrote about the encounter. The collection was expected to fetch between 200,000 and 300,000 Danish kroner (approximately €26,900 to €40,400).
"The reaction in house has been overwhelming. First it was; 'Is this for real? Could this really be true?" said head of branding Alexa Bruun Rasmussen of when Højen first approached them.
"We have never had a recording like this before, and to have star-quality like John Lennon is unreal almost," she added.
Just months after the interview, The Beatles split up. Lennon was shot and killed in New York a decade later in 1980 at the age of 40.
Demand for Beatles memorabilia remains strong to this day. Last year, a pair of famed round spectacles worn by the late frontman were auctioned by Sotheby's for around 51,500 euros.
Højen still listens to The Beatles and John Lennon, his favourite song is "Imagine".
"It's more relevant than ever, this message of peace," he said.