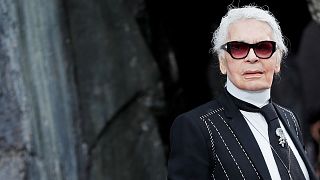 Iconic fashion designer Karl Lagerfeld has died.
One of the fashion industry's most prolific figures, the German creative director, artist, photographer, and caricaturist lived in Paris.
"The world has lost an icon. Karl Lagerfeld was a creative genius; he was influential, curious, powerful and passionate.He leaves behind an extraordinary legacy as one of the greatest designers of our time," said Pier Paolo Righi, CEO of Karl Lagerfeld.
He was best known as the creative director of the French luxury fashion house Chanel.
Lagerfeld also headed the Italian fur and leather goods fashion house Fendi as creative director and managed his own eponymous fashion label.
Born in Hamburg in the 1930s (he remained notoriously mysterious over his date of birth), a young Lagerfeld moved to Paris in his early years to study art and design.
By 1954, he had won his first prize for a sketch submitted to the coat category at the Fashion Design Competition in Paris.
'I do everything myself'
Euronews spoke to Lagerfeld back in 2016, who said he initially wanted to become an illustrator, touching on his insistence of being able to do everything in the design process himself -- he is also known for shooting his own campaigns.
"I wanted to become an Illustrator in the beginning and that has helped me a lot because people who work with computers, Artistic Directors look at stuff that others are doing," he told Euronews.
"I do everything myself. I do extremely precise drawings, almost in 3D. The people who work with me, the heads of workshop 'premieres' as we call them, barely need to ask questions."
"When I see the first fittings – it looks exactly like my design. If It isn't any good, it's my fault – not theirs."
Talent spotted
Following the early win at the Fashion Design Competition, French designer Pierre Balmain produced the coat in Lagerfeld's successful sketch, before taking him on as an assistant.
This launched his career in the world of fashion.
Lagerfeld then took on a stint as the art director for Jean Patou, eventually going freelance in the early 1960s, which saw him travel across Europe to France, Germany, Italy and the UK.
By the mid-1960s the German designer had put his name to the Chloe fashion house, going on to later introduce the brand's hugely successful perfume, and launching his famous life-long collaboration with Fendi.
He reached his career peak in 1983 with his ongoing collaboration with Fendi, before shortly after making his move to the house of Chanel.
A passionate photographer himself, Lagerfeld later moved behind the camera, choosing to shoot his own campaigns, and eventually opening his specialised 7l bookshop.
Lagerfeld on the future
Speaking to Euronews in 2016 about the future of fashion, Lagerfeld was modest about his extensive successes when asked for advice for designers wanting to follow in his footsteps.
"To be honest, I don't want to discourage them but I think it would be better if they picked a different example to follow," he said, adding that he would rather focus on the individual, rather than the mass.
"I don't give this kind of general advice, I can only offer individual guidance."
"It depends on the talent they have, their desire and even the circumstances in which they live. How they express themselves."
"There isn't a recipe for success!"