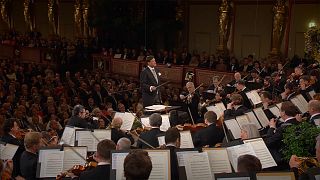 One of the greatest honours a maestro can receive is to conduct the famous New Year's concert in Vienna's Musikverein concert hall watched on television by some 50 million people in more than 90 countries. For German conductor Christian Thielemann this year was a first and his triumphant performance was the product of a long and fruitful collaboration with the Vienna Philharmonic.
"It's a marvellous atmosphere," he said. "I learn a lot because it's good for a conductor to listen to what the orchestra is offering. This orchestra in particular has it very own innate style of music. It's incomparable and it gives me ideas because my development is nuanced by how they play. "
"He sees and feels everything," says Orchestra chairman Daniel Froschauer. "He feels when the concertmaster wants to slow down. He is so flexible he can use it in order to create another magic moment. "
"We start with such an elegant Austrian march," says Thielemann. "In general marches are quite difficult because they degenerate easily. However, not with this orchestra. Then, there's a waltz and a fairy theme with an elfs' round dance. So we have different sound colours. And after that, the music gets sturdy. When you listen to 'Nordseebilder' - pictures of the North sea - you can see a storm coming up. But although it sounds looming, it changes into a pleasing waltz. All those different parts form a kind of a hilly landscape.".
Every New Year's repertoire includes several works from the Strauss dynasty. Despite the long tradition there are still pieces from the repertoire that can be found to be played for the first ever time at the concert for example Josef Strauss's The dancers.
"They were able to express themselves in such a beautiful way with their musical language that a huge audience loved them," says Froschauer. "For instance The Dancers… you can literally see a dancer moving on her toes. You can hear it."
"No wonder that Johannes Brahms wrote a dedication for Johann Strauss in which he said 'unfortunately they're not mine' - referring to the first notes of the Danube Waltz. That says it all."