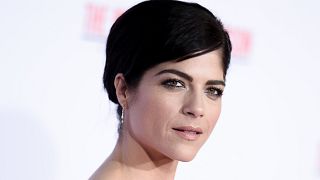 -
Copyright

Richard Shotwell AP
By Ronnie Koenig with TODAY Health and Wellness
Selma Blair, who publicly revealed in October that she has multiple sclerosis, says she has been "grieving" while coming to terms with her diagnosis.
The 46-year-old actress wrote last month on Instagram that she was diagnosed with MS in August, though she suspected she may have suffered from it for 15 years. On Friday, the day after Thanksgiving, she took to the social platform once more to share her reflections, now that a doctor has placed a name on the pain she had been experiencing.
"I have been grieving recently," wrote Blair. "For the things I took for granted. A cartwheel for my son being one. I was the most gymnastic mom I knew. A cartwheel was just as easy as taking a breath. But when I began to turn one yesterday on an impulse to show my son who had forgotten, it went all wrong."
The mother of one wrote that her body experienced "a jumble of confusion."
"And I tried to laugh," she added. "As did my son. But it was a turning point. Part of the grim realization. Is this just #ms or Is this still an exacerbation? Five months and still same way. Or is this my new normal?"
She shared that she had felt inspired to pen this message after watching director Griffin Dunne's documentary about writer Joan Didion, titled "The Center Will Not Hold."
"As Joan has written. The center will not hold. And as I write... neither will the rest of it. So I thank you all for propping me up. We all have something. Now how do we handle it? What do we do when the news is old but dramatically altering our lives every day? Still grateful."
Since sharing the news of her diagnosis, other stars who are also affected by MS, including Jamie-Lynn Sigler and Jack Osbourne, have come out to show support for Blair. Multiple sclerosis, a condition where the body's immune system attacks the brain and spinal chord, affects 2.3 million people worldwide, according to the National Multiple Sclerosis Society.
In her October post revealing her diagnosis, Blair wrote that the condition has caused her to fall or drop things and also fogged her memories. "My left side is asking for directions from a broken gps," she wrote.
"I am in the thick of it but I hope to give some hope to others. And even to myself," the actress added in that same post. "I want to play with my son again. I want to walk down the street and ride my horse. I have MS and I am ok."