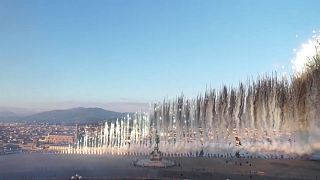 A colourful performance of 50,000 fireworks painted the blue skies of Florence on Monday in a 15-minute display.
Dubbed the "city of flowers in the sky," the spectacular show marked the opening of an exhibition by Chinese artist Cai Guo-Qiang, famous for using explosives to create art.
Cai says he was inspired by Renaissance values and around 60 of his artworks are on display at Florence's Uffizi Galleries.
"The Renaissance spirit is renowned for personal liberation, personal values and knowledge of nature. The flowers and plants are a reflection of the theme," said Cai.
"I started with that and studied in the Boboli Gardens what the Renaissance flower species are. I then designed the fireworks in China and came back to give it to this city, painting in the sky here, the city that created Renaissance art."