Leonardo da Vinci's notebook on show in Florence
Comments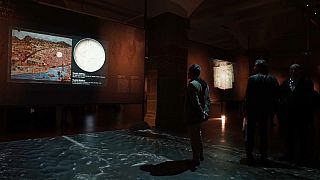 An iconic artist whose work has reverberated through five centuries, Leonardo da Vinci continues to fascinate and delight generation after generation.
To celebrate the 500th anniversary of his death, the 'Codex Leicester' – his famed notebook of scientific writings - is on show in Italy. The exhibition - Water as Microscope of Nature: Leonardo da Vinci's Codex Leicester - will use digital displays to showcase the 72-page manuscript.
Paolo Galluzzi, the curator of the exhibition and director of the Galileo Museum of Florence, believes the manuscript is as relevant now as it was in the Renaissance.
"During Leonardo's generation, the borders between art and science weren't as clear as we see them today. A lot of his artistic colleagues studied maths. Just think about Piero della Francesca, who was a very important surveyor, they studied statics [the study of how forces affect still objects] because they built innovative buildings, and therefore the context was very different."
The name Codex Leicester comes from the notebook's previous owner, the Earl of Leicester (Thomas Coke), who bought it in 1719. Its current owner, Microsoft founder Bill Gates, is loaning it to the gallery. He bought the works in 1994 for over €27 million ($30.8 million).
The exhibition is open to visitors at the Uffizi Gallery, Florence, until January 20th 2019.