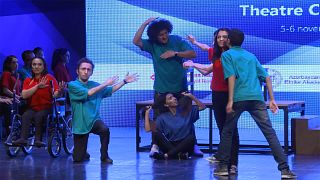 Philosophy of theatre in the 21st century and the concept of existence were just some of the big themes at this year's International Theatre Conference in Azerbaijan. The event in Baku, in its 5th edition, offered a rich programme bringing together scores of theatre experts from across the world. For the event's organisers, theatre has a critical role to play in allowing people and citizens to discover their place in society.
The 2nd International Theatre Festival M.A.P (Music. Art. Performance) organised by YARAT, a corresponding event in Azerbaijan's capital, opened immediately after the conference. Under the theme "Theatre without Borders". The programme included plays, opera, modern ballet and an array of experimental work from international theatre companies. The festival also had puppet shows for the younger generation of theatre goers
"Puppetry is really important for young children to get to know art itself, and then they are better visitor of theatre, better listeners, readers, observers of art, visual art, and so on," said Katarina Klancnik Kocutar, a representative of UNIMA:
The festival included "NOONE's LAND", a show created by the "Merlin Puppet Theatre" company. The performance is about a lonely creature trapped in an environment he has not chosen. One day, disappointed with the world he discovers, he decides to make it better.
Another highlight, was 'Aria', performed by the Italian theatre company "No Gravity". Directed and choreographed by Emiliano Pellisari, the show revisits the theatre of the Renaissance and Baroque eras. Featuring music from Monteverdi and Vivaldi, it incorporates circus like performances, unusual characters which move in a magical way, in what seems like outer space and time.