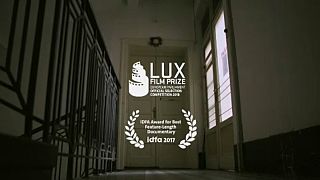 The LUX Prize is a prize that has been awarded every year by the Euopean Parliament since 2007, The objective of the LUX Prize is to illuminate the public debate on European integration and to facilitate the diffusion of European films in the European Union.
This year's crop threw up three committed finalists, three films that invite us to discuss and to think. The first one comes from Serbia, and is directed by a  woman, Mila Turajlic.
"The Other Side of Everything" examines a divided apartment, about a door that separates families who have ignored each other for 70 years ... and through it, the history of a country that tries to close its wounds.
"What is behind this door is the story of a country that somehow has always been defined by its divisions, and so one of the aims of the film is to try to open that door and to say that the only way we are going to manage to write its history is if we write it in a space that is big enough to acomodate all of these different views," says Turajlic.
From Iceland, director Benedikt Erlingsson tells the tale of one woman's struggle for the environment, a contemporary Robin Hood confronting an aluminum multinational. "Woman at War" is a film full of action, humor and music.
"She wants to hit the bad guys, to make it expensive, to damage the dominators. They are the sabotagers, so she sabotage them. That is the first premise, but there is another: when can you take action? when can you break the rule?" wonders Erlingsson. 
The third film, "Styx",  is about a woman facing a situation that surpasses her. Alone on her sailboat, she finds a ship loaded with immigrants. Her distress calls get no answer.
"We are all the time in her perspective, which means that you raise the question: what about us? How do we react? And which kind of choices do we have? The main idea was to raise this question: what would we have done in this situation?" asks director Wolfgang Fischer.
The winner of the Lux Prize will be announced on November 14th.