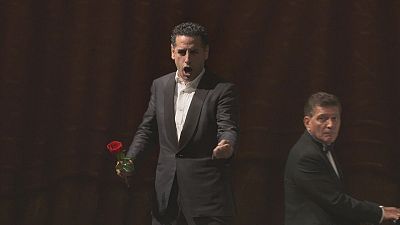 Opera stars dominate the stages on which they tread, becoming adored cultural icons, and making music always appears easy for them. However Peruvian tenor Juan Diego Flórez maintains that in reality, it is a real challenge.
"In the beginning the first piece is always a bit uncomfortable because you are there, you have 3000 people in front of you and you have to make magic happen. So you have to start feeling comfortable and making the audience feel comfortable. If you feel that they are maybe a little bit tired or they are not concentrating a lot because you can feel that, it's amazing, then you do something in order to attract them. You speak to them or you pitch a certain note in a certain way. So you get their attention. A recital is an art and I love it," he says.
A gala is particularly challenging for a singer. Instead of following the mood of one opera, the interpreter has to switch around.
"When I'm singing "che gelida manina" then I know I have to think about that girl in my apartment and when we are looking for something and I touch her hand and it's cold I have to picture everything. And I like to, you know, take the mask off, put another one on and then take that one off and then put another one I like on. It's fun," he says, making complex interpretation sound easy.
"Vincenzo Scalera is my pianist. We have worked for 20 something years already together. We have done countless recitals around the whole world and we have a lot to tell. We have a lot of stories. So yeah, it's fun. We understand each other, you know, easily and fast. And even if I make a mistake, he understands even that I'm about to make a mistake and he's already preparing for that."
He adores the timeless quality of classical music, and the authenticity of live performance.
"Opera is one of the last art forms in which everything is as it was so many years ago. And the singers they sing without a microphone. So the experience is so real. Really in the production of the music there's no technology involved. Now the norm is technology and the difference will be opera and ballet and all those art forms that are pure and connected to the people. And a live performance will be more relevant than in the past - live music."