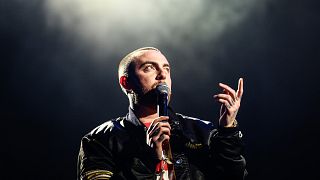 Copyright

Rich Fury Getty Images file
-
By Ethan Sacks and Andrew Blankstein with NBC News Entertainment
Rapper Mac Miller was found dead at his home in Studio City, California, on Friday, two law enforcement sources told NBC News. LAPD and LAFD had responded to reports of a possible drug overdose.
Miller, 26, had publicly spoken about his battles with addiction over the years, but was in the midst of a career resurgence with the recent release of his fifth album, "Swimming." A tour in support of the album was scheduled to kick off on Oct. 27 in San Francisco.
Before the release of that album, Miller had been in the headlines of gossip glossies more than the music trades in recent months. In May, he endured a high-profile breakup with former girlfriend Ariana Grande and was arrested at home after driving into a utility pole, leaving his vehicle the scene and then testing over the alcohol limit. The Los Angeles Attorney's office charged him last month with DUI and hit and run in the incident.
Born in Pittsburgh as Malcolm McCormick, the son of an architect and a photographer reportedly taught himself how to play piano, bass, guitar and drums as a young child, switching to rap in high school. Miller had skyrocketed to fame eight years ago with the release of his mixtape, "K.I.D.S. (Kickin' Incredibly Dope S---)," which earned him a contract with Rostrum Records.
A year later, his first album, "Blue Slide Park," debuted at number one on the Billboard 200 chart.
His charming delivery also helped land him a reality series, "Mac Miller and the Most Dope Family," in 2013, which ran for two seasons on MTV2.
That fame, though, came at a cost.
In an interview with Vulture that was just published a day before his death, Miller confessed to anxiety over the expectations heaped on him by the industry and his fans. "When I first started, I thought I was going to be the biggest thing in the world," Miller told the entertainment site. "There was this time when I was the most Googled thing on the internet. It was like 'diet, carrots, and Mac Miller.'"
"A lot of times in my life I've put this pressure to hold myself to the standard of whatever I thought I was supposed to be, or how I was supposed to be perceived. And that creates pressure," he added.
Tributes from his peers flooded social media Friday.
"I dont know what to say Mac Miller took me on my second tour ever," tweeted Chance the Rapper. "But beyond helping me launch my career he was one of the sweetest guys I ever knew. Great man. I loved him for real. Im completely broken. God bless him."