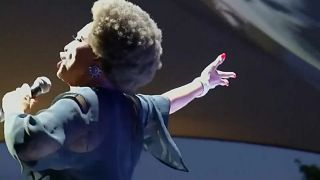 Detroit said one final goodbye to the singer known as the "Queen of Soul". Aretha Franklin died last week at the age of 76 after a long battle with pancreatic cancer.
Her soaring voice would become the inspirational standard for other singers to match.
The singer's body was transported in a vintage white hearse used by civil rights pioneer Rosa Parks.
She was carried in a gleaning casket plated in 24-karat gold. Fans queued outside the funeral to pay their respects. A sea of pink Cadillac cars lined up outside the funeral. Franklin sang about pink Cadillacs in her 80s hit, "Freeway of Love"
Some of the performers set to sing at Friday's funeral service, included Steve Wonder, Ariana Grande, and Chaka Khan. Reverend Jesse Jackson and former President Clinton are scheduled to speak at the ceremony.