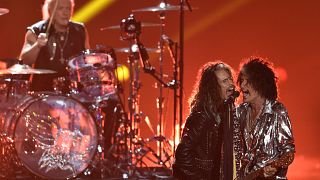 -
Copyright

Chris Pizzello Invision/AP
By Variety with NBC News Entertainment
LOS ANGELES — Aerosmith singer Steven Tyler is demanding President Donald Trump stop using the band's songs at rallies, like the one held at the Charleston Civic Center in West Virginia on Tuesday.
The band's 1993 hit "Livin' on the Edge" was played as Trump devotees entered the venue, which has a capacity of 13,500. Tyler has in turn sent a "cease and desist" letter through his attorney Dina LaPolt to the White House accusing the President of willful infringement in broadcasting the song, which was written by Tyler, Joe Perry and Mark Hudson.
Citing the Lanham Act, which prohibits "any false designation or misleading description or representation of fact ... likely to cause confusion ... as to the affiliation, connection, or association of such person with another person," Tyler's attorney contends that playing an Aerosmith song in a public arena gives the false impression that Tyler is endorsing Trump's presidency.
"As we have made clear numerous times, Mr. Trump is creating the false impression that our client has given his consent for the use of his music, and even that he endorses the presidency of Mr. Trump," Tyler's lawyer wrote in a letter to the White House. "By using 'Livin' On The Edge' without our client's permission, Mr. Trump is falsely implying that our client, once again, endorses his campaign and/or his presidency, as evidenced by actual confusion seen from the reactions of our client's fans all over social media."
Tyler elaborated further on Twitter, saying this was not about partisan support and that his views precede the Trump presidency.
The matter has come up previously with another Aerosmith song, "Dream On," which Trump used during his 2015 election campaign. Following a similar letter stating, "Trump for President needs our client's express written permission in order to use his music" and that the campaign "was violating Mr. Tyler's copyright," BMI drove the point home and pulled the public performance rights for the song. Public performance rights for "Livin' on the Edge" are administered by ASCAP.
During the rally, President Trump spoke about immigration, trade and politics, peppered with his usual banter about Special Counsel Robert Mueller's investigation into Russian interference in the 2016 election.
Analysis
Earlier in the day, Michael Cohen, Trump's longtime former personal attorney, pleaded guilty to eight criminal counts in federal court on Tuesday, including campaign finance violations related to payments made to women who claim to have had affairs with Trump.
Paul Manafort, Trump's former campaign chairman, was also found guilty Tuesday on eight of 18 counts in his federal trial over fraud charges. The case involved work Manafort did on behalf of a pro-Russian government in Ukraine. Shortly after the verdicts were announced, President Trump told reporters: "I feel badly for Paul Manafort" and called him "a good man."
On Sunday, Aerosmith was among the top-billed acts on the 2018 MTV Video Music Awards, joining Post Malone and 21 Savage for the show's closing performance, a medley of "Dream On" and "Toys in the Attic."