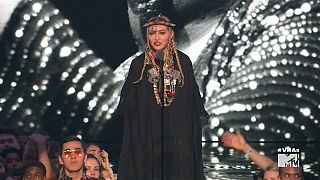 Singer Madonna was at the VMAs on Monday - where she was supposed to honour Aretha Franklin, who died last week.
But her tribute left many confused - instead of talking about the Queen of Soul, the Queen of Pop chose to focus on her own career.
"She led me where I'm today and I know she influenced many people in this house tonight, in this room tonight. And I want to thank you, Aretha, for enpowering all of us. R-E-S-P-E-C-T Long live the queen"
Aretha Franklin performing "I Say a Little Prayer" at a gala event
Viewers were quick to call Madonna out for self-indulgence - and call out the organisers for failing to get an artist of colour to give the tribute.