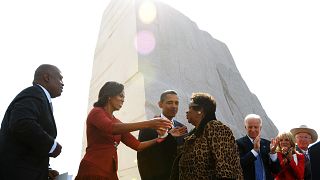 -
Copyright

Mandel Ngan AFP - Getty Images
By Daniel Arkin with NBC News Entertainment
Aretha Franklin sang her heart out on the first day of the Obama White House, then again near its end.
She was there on the steps of the Capitol on a chilly day in January 2009 for President Barack Obama's first inauguration, resplendent in an instantly iconic gray felt hat bedecked with an oversized rhinestone-bordered bow. She belted out "My Country 'Tis of Thee," her words echoing across the National Mall.
She was there in December 2015 for the Kennedy Center Honors, triumphantly taking the stage in a long, brown fur coat that draped over the floor as she sat at a piano and treated the audience to a rousing rendition of "(You Make Me Feel Like) A Natural Woman."
Carole King, the honoree who co-wrote the song, gleefully gasped from her balcony seat. Obama was moved to tears.
Franklin, among the most acclaimed and influential vocalists in the history of American popular music, provided the galvanizing soundtracks for both the civil rights and women's empowerment movements of the 1960s and 1970s — the very movements that paved the way for the country's first black president and first lady.
The electrifying power of her voice — what it meant for anyone who strives for dignity in America — was not lost on the Obamas, who praised Franklin in a statement released hours after her death, at 76, was announced on Thursday morning:
America has no royalty. But we do have a chance to earn something more enduring. Born in Memphis and raised in Detroit, Aretha Franklin grew up performing gospel songs in her father's congregation. For more than six decades since, every time she sang, we were all graced with a glimpse of the divine. Through her compositions and unmatched musicianship, Aretha helped define the American experience. In her voice, we could feel our history, all of it and in every shade—our power and our pain, our darkness and our light, our quest for redemption and our hard-won respect. She helped us feel more connected to each other, more hopeful, more human. And sometimes she helped us just forget about everything else and dance.

Aretha may have passed on to a better place, but the gift of her music remains to inspire us all. May the Queen of Soul rest in eternal peace. Michelle and I send our prayers and warmest sympathies to her family and all those moved by her song.
Similar tributes came Thursday from fellow musical luminaries — including Smokey Robinson, Barbara Streisand, Christina Aguilera, John Legend, Diana Ross, Paul McCartney and dozens of others.
Franklin was also honored by pillars of the civil rights community, such the Rev. Al Sharpton, who called her a "beloved friend and queen/warrior" whose "contributions are legendary both personally and societally."
And she was mourned by another former first couple — Bill and Hillary Clinton. Franklin also performed at Bill Clinton's first inauguration in 1993.
"She deserves not only our RESPECT but also our lasting gratitude for opening our eyes, ears and hearts," Hillary Clinton tweeted. "Rest in eternal peace, my friend."