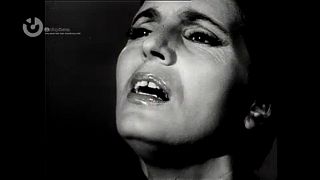 The Queen of Fado Amalia Rodrigues would have turned 98 on July 23rd.
Portugal's best known fadista recorded more than 170 records before her death in 1999.
So what better way to celebrate her birthday than with a new album?
It's a triple CD called 'É ou não é?' ('Yes or No?') consisting of songs released as singles between 1968 and 1975.
The songs are more popular, unlike the serious fado repertoire of her album "Com que voz" released during the same period.
That time coincides with the years leading up to and immediately following Portugal's 1974 revolution. Rodrigues was accused of being close to the former regime - accusations she vehemently rejected. 
To silence her critics, she even recorded a cover of the revolution anthem 'Grândola Vila Morena'.
Rodrigues sang lyrics by many great poets of her time, including 'Gaivota' - one of her most famous songs, composed by Alain Oulmain, with lyrics by the poet Alexandre O'Neill.