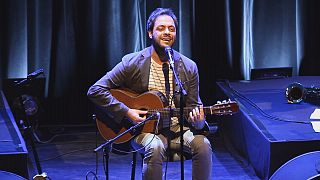 António Zambujo is part of the new generation of Portuguese musicians. He started as a fado singer, but put it, bossanova, vocal jazz and folk music in a mixer add a hint of the sounds from his native region of Alentjo in the South of Portugal and that's where his music is today.
"I would listen to the elderly people singing in the tavern in front of my grandmother's house and became interested in singing, in studying the songs they would sing. So I learned some of them and started singing," the singer recalled.
His concert in Lyon, France opened the "Musiques des Confluences" dedicated to world music, part of the renowned city's festival "Nuits de Fourviere".
"O pica do 7", is a song about a girl who falls in love with a tramway ticket controller, is from his sixth and latest album, "Rua da Emenda".
The singer released his first album in 2002 after his role in the musical "Amalia" about the life of fado singer Amalia Rodrigues which helped launch his career.
He became increasingly well-known, not only in Portugal, but mainly beyond its borders, especially after the release of his third album, "Outro Sentido" in 2007. He toured the globe and performed a solo concert in New York's Carnegie Hall last year.
In the middle of a frantic tour, he still had time last June, to receive the honour of the Commander of the Order of Prince Henry the Navigator from the Portuguese president Cavaco Silva.
"I used to feel a bit awkward when entering a record store, in Portugal or other countries, and finding my records ranked under "fado". Then I realised fado is indeed one of my biggest influences, together with the music of my native region.
'Fado and "cante alentejano" are the base where all the other influences and all the music I listen to lean on. Artists like Chet Baker an João Gilberto – or, in a more "chaotic" world, Tom Waits and Nina Simone.
'Also lusophone artists such as Cesária Évora, Amália Rodrigues and Caetano Veloso. Having these musical choices and being open to all these influences, my way of singing and composing changed."
Recently, the singer did several dates in Israel, both solo and as a guest of local star Idan Raichel.
After Lyon, Toulouse and Rio de Janeiro, Zambujo will perform several dates in Europe, culminating with a performance in Casino de Paris on November 6th.