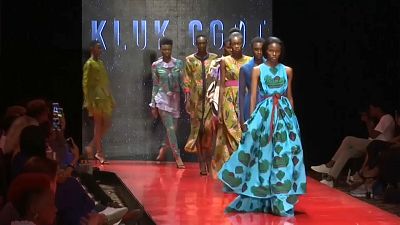 Arise Fashion week in Nigeria featured bright coloured dresses and long, shimmery sheer dresses with simple underwear underneath as well as pantsuits with matching patterned tops and bottoms from South Africa's premier fashion label Kluck CGDT.
Plus size women were also celebrated with models donning black silk gowns and and sheer, beaded dresses.
About That Curvy Life founder, Latasha Ngwube, says she was impressed by the variety of shapes and sizes in New York Fashion week and it was time to bring diversity to Nigeria.
"Size matters, size representation is important to me," she explained. "I feel that it's a shame that on our continent women who look like me are never represented on the runway. In places like Asia, you go there and you respect the culture. I feel that it is necessary for the women here to be seen and be celebrated."
Metallics in every color were on display during Lanre Da Silva Ajayi's show. The Nigerian fashion brand featured a series of metallic gold dresses, oversized coats and suits as well as dark greens and purple looks.
Arise Fashion week features 45 designers, many from African countries.