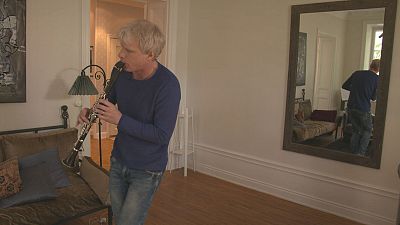 Martin Fröst is known for his cutting-edge performances. He invited Musica to his home in Stockholm to give us an insight into his creative mind.
"I'm the type of musician who really wants to have a traditional life as a classical clarinet player, also now as an conductor, but I'm also restless and I get easily provoked by the whole system in the classical world, Fröst says. "After a while I want, shake my body a little myself, but maybe also the audience, and when I do that I'm very happy to go back to Mozart and to all kinds of repertoire but it is a mixed that I like.
"I live on these magical moments in the music at the performances, but also I get enormous energy out of just creating in my head. Now I'm asking all these questions, where do we go now, we are looking backwards, we are so scared about the future, but I'm also scared about one more thing, that things become dead, that it doesn't start to live.
"Classical musical is...we are sort of: Here it is again the Beethoven 4 and it sounds like this. And if you take it a little bit out of tempo people would say: Oh don't do that tempo. It's going to be like... (he sings). That's the tempo it should be. We are so trained to do it right and to do it perfect and I'm such a victim of that and maybe we educate ourselfs sometimes just away from our creativity, I mean to risk to do something wrong and then it is hard to feel this freedom if you compare it to a jazz musician, count in to four and you feel very nice. The time that I played with jazz musicians I was like wow they are just relaxed and play."