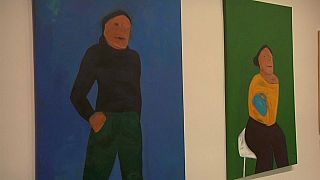 Georgia is showcasing its contemporary artwork at the Tbilisi art fair (TAF 2018) at its first ever international exhibition for four days.
30 galleries and 40 artisans from around the world and locally, show off their creativity with 300 pieces of work.
Organisers hope it'll boost the local economy.
Nino Gamrekeli is the Tbilisi Art Fair 2018 organiser and she says, "We think in Georgia there is a potential to transform Tbilisi into the regional art centre. We have a very authentic, diverse artistic scene with many interesting painters and artists. Our national art market does not exist or is underdeveloped, and our aim is to make this market more real and alive."
Uta Bekaia is a Georgian Artist at the expo and he says, "This venue for me is very important. There is so much stuff; so many exhibitions; there's a lot of sideshows and many people come to see it, so it's wonderful. I think it's going to grow and I'm very happy to be participating in the first one."
Tbilisi, steeped with history, seems to be going through a renaissance at the moment, and is now fast becoming the place to go for music, art and culture.