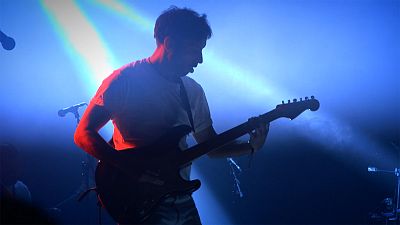 DJs and bands from all over the world have converged on the French city of Lyon for the 'Nuits Sonores' ('Nights of Sound') festival - one of Europe's leading events celebrating all syles of electronic music.
"Electro music has been around since the late 1970s." said Euronews reporter Wolfgang Spindler.
"At 'Nuits Sonores', we met one of the founding fathers of electro music, D.A.F, or 'Deutsch Amerikanische Freundschaft' and I have noticed this festival understands that music is not only a man's world. Here there are many women behind the turntables and on stage."
Deutsch Amerikanische Freundschaft from the German city of Düsseldorf were among the most influential pioneers of electro music in the 1980s. At the time, their provocative music style and German lyrics were something radically new.
"Rock music was replaced by this new movement, punk, and electronic music," band member Robert Görl told Euronews.
"People were very interested and absolutely wanted to hear something new."
"Our roots were punk music and we wanted to use this energy and combine it with new instruments and electronic music," fellow D.A.F. musician Gabi Delgado-López said.
"That's how we created electro-punk which did not exist in this form."
Gender equality was not an issue at 'Nuits Sonores', with festival programmers booking a big selection of first-class female performers.
"They have managed to put together a programme that respects equality, which shows that society and the underground scene is changing its point of view," said the event's Artistic Director Pierre-Marie Ouillon.
"There is also the emergence of these women. Today, we are proud to be able to say that 'yes' we have a programme that is, in part, gender balanced."
Iranian-born, San Francisco-based DJ Mozhgan Shariat has been invited to many international festivals.
She has also visited Iran, a country where dancing and electro music is forbidden.
"When I went to visit, my friend was like: 'Oh I can maybe get you a gig there. There are underground parties' but I didn't wanted to risk it," Shariat told Euronews at 'Nuit Sonores'.
"I don't think you can safely do what I did here."
French musician Tiphaine Belin, known as Tryphème, uses sound machines and her voice to create a hybrid music made up of hazy melodies and percussive rhythms.
"I love to jam with my machines ad infinitum! These sounds hypnotise me and it's a sort of therapy for me. It's good for me. I make all this (music) for very selfish reasons, really just for myself!" she said.
French Afro-punk group Tshegue is made up of Faty Sy Savanet, a Kinshasa-born singer who moved to the Parisian suburbs when she was nine-years-old and percussionist Nicolas Dacunha.
"Percussion is what the project is based on," Faty explained.
"Percission is fundamental. It is about feelings...the beating of the heart. That is what is great about percussion. Everyone can interpret it. Like trance. Like all this electronic, rather techno music. You can go on a journey and imagine the piece as you wish."
"Electro, techno, hip hop, house...This festival has a vast programme but in the end everybody is here to have fun and dance until sunrise," our reporter Wolfgang Spindler concluded.