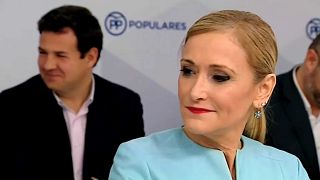 The leader of the Madrid region of Spain, Cristina Cifuentes, has resigned following allegations about shoplifting.
Speaking to reporters she said she was already planning on stepping down but brought forward her announcement:
She said: "As a consequence of today's news I decided to advance the announce of my decision to leave the Madrid Community Presidency."
The move follows the publication of CCTV images from 2011 which show Cifuentes with a supermarket security guard to whom she's seen handing over a number of items, alleged to include anti-ageing cream to the value of 40 euros.
She admitted that the footage was genuine but insisted that its publication was part of a campaign of harassment designed to bring her down.
Ms Cifuentes, 53, abandoned her master's degree programme last week after it was revealed that details on two documents had been forged.
Her decision to resign will prevent a vote of no confidence which would risk destabilizing the government. But it be a further blow to the prime minister, Mariano Rajoy, who has had seen a number of his party members embroiled in corruption scandals.
The allegations about the fake master's degree have affected the reputation of King Juan Carlos University which has suspended the head of its law institute, Enrique Álvarez Conde, after he showed support for Ms Cifuentes.
Cristina Cifuentes is a prominent figure in Spain's ruling centre-right Partido Popular.
At the time the CCTV images were recorded in 2011, she was number two in the Madrid assembly.