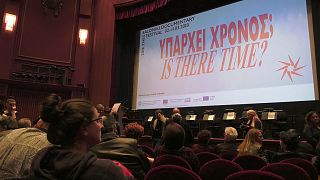 Documentaries can sometimes be stranger than their fictional film cousins. For twenty years the Thessaloniki film festival has been showcasing new and experimental works. Once a small regional festival, the event has become an important date on the European cultural calendar. It's the perfect ground for directors to showcase new ideas or ways of presenting documentary films.
This year's festival is no exception. The stories on display challenge audiences. Take the film 'The distant barking of dogs', a film which follows the life of 10-year-old Oleg as he grows up on the fringe of the war in Ukraine. Oleg lives with his grandmother Alexandra in the village of Hnutove. The film examines the slow erosion of Oleg's innocence over the course of a year. Oleg observes to a friend that the shooting 'sounds closer' than it had the day before. Half of the village's inhabitants leave in an effort to search for safety. However, for Alexandra and Oleg, there is no such opportunity. The film shows how as war decimates their lives and those around them. Yet the family relationships are a constant both can rely on.
For directors Véréna Paravel and Lucien Castaing-Taylor, the festival gives them an opportunity to share ideas. The two anthropologists said they were motivated to make the film because of humans disconnection with the planet: "I think we are part and parcel of the world and the environment. I think humans forget that. It is why we 've destroyed the environment right now. The other thing is that we are the only animal who forgets that we are an animal. So we think we are completely unique. We think we are sui generis. That we have nothing to do with our environment or with other species or with the inanimate world. So our hope is to reattach humanity with other animals and with vegetables and minerals".
Finally, developments in virtual reality are part of the new competitions programme at the festival. VR headsets have been popular worldwide, so could we be witnessing what's next for cinema? Or will VR headsets go the same way as 3D film which for many is seen as being more of a gimmick than changing the horizons of cinema.
Screening continues.