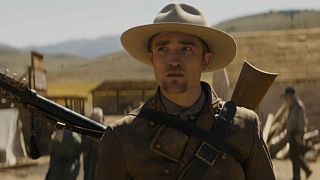 The new Western comedy Damsel has had its Berlinale premiere on the second day of the international competition.
Independent US filmmaker Nathan Zellner, who wrote, produced and directed the film with his brother David, told Euronews that they enjoyed creating a play on the classic Western genre.
He said: "I think that part of the fun of using, or working in, a genre is being able to go in there with a baseline of what people expect and what people know and then subverting it and challenging their expectations and hopefully catching people on their toes a bit."
In the lead roles of the film are the Australian Mia Wasikowska and the British actor Robert Pattinson.
Pattinson plays Samuel Alabaster, the affluent pioneer who ventures across the American frontier region with a pony called Butterscotch.
But Alabaster's quest to marry the love of his life Penelope takes a turn for the worse and, as our correspondent reports, the lines are soon blurred between heroes, damsels and villains.
Pattinson admitted he was sceptical about the role - but only at first.
"Initially, when someone says it's a western comedy you're like 'I don't know about that'," he said.
"And then I read it and it seemed so strange and so abstract and there was something original and funny about it, so it was pretty appealing."
This Western Comedy of the Zellner brothers is not a conventional Western. It is full of ironic twists and turns and in the end there is no real hero.
Whether it can convince the jury is another matter.