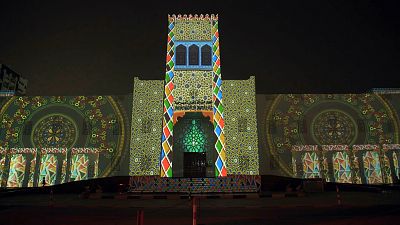 In the United Arab Emirates, bright lights illuminate the landmarks of Sharjah during the eighth edition of the city's annual light festival, being held this week (February 7 - 17).
Through 23 colourful projections across the city, this year's edition celebrates science, creativity and heritage.
Expectations are that approximately one million people will pack the streets in Sharjah to enjoy the exhibits.
If you can't travel over to witness the spectacle yourself, we have put a spotlight on some of the top productions, as seen by social media users
Sunrise
The Sunrise exhibit, being projected over the University City Hall building, shows in a burst of colour how cultural perspectives change with time. The projection was designed by Spanish artist Tigrelab.
A hHouse in the sea under the moonshine
Cambodian artist Cindy Lo portrays the interesting shapes formed underwater when struck by moonlight. This projection takes place on the Masjid Al Noor mosque, which many consider to be an architectural gem.
Light House
The graphically-rich work by Artslide highlights the grandiosity of the region's House of Justice.
Monoliths, landing in Sharjah
French artist Mathieu Felix tells the history of life in the Arabian Gulf with a breathtaking projection on the Dr. Sultan Al Qasimi Centre for Gulf Studies.
A-maze-in
This installation is a true winner on social media, many visitors make sure to share a picture walking through the lit-up maze in Palm Oasis, beautifully conceived by artists and engineers from the Nomada Design Team.
Waking Dream
The projection at the Masjid Sheikh Rashid Bin Ahmad Al Qassimi religious structure is a play on how culture and knowledge originate from the natural environment. The show, inspired by the look of sand dunes, was conceived by artist Raphaelle Martinez.