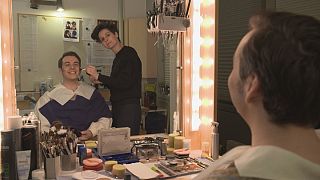 "In general, each time I sing, not only during a debut, even when it's a role I've sung in the past, I always go on stage before the start of the opera, just to take in the stage and the energy. This is something I always do and I always arrive pretty early because I like to feel quiet in the theatre, to feel the theatre."
The opera "Elisir d'Amore" by Gaetano Donizetti centre's on Nemorino's burning love for Adina. Initially Nemorino's love goes unrequited, but eventually she succumbs to his advances.
Full of humour and spectacular music, French tenor Benjamin Bernheim plays the lead role of Nemorino at the Vienna State Opera. Musica went backstage with Bernheim just before he took to the stage for the first time in the Austrian capital.
Bernheim: "As it's my first time here, and it's also my first time in this role, all I want, is to be able to perform with serenity, and if the audience likes it, I will be delighted of course!" Euronews: "Have you seen the stage yet?"
Bernheim: "No, I will go there in 10 minutes. I'm going to discover the stage, the decors, the sound, the wood, the scent. In fact, these are moments when creativity is heightened, because you're in a new environment, not a familiar one, and in general, it's in this kind of moment that things happen, interesting things. "What's required of an opera voice is very different to what's expected for a rock'n roll voice. We have no microphone, no audio support. The voice moves in space and has to be heard over an orchestra and this requires great level of seriousness."