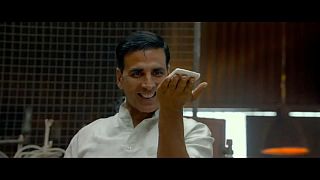 Twinkle Khanna hopes her new film "Pad Man" will change attitudes towards menstruation.
In her new movie, the Indian filmmaker shines a light on a widespread issue in India - the lack of affordable sanitary pads available to women.
The film is a fictionalized account of the life of Arunachalam Muruganantham, a man who revolutionized the manufacture of low-cost sanitary pads in the country.
"This was a man who was really invested and interested in what is primarily seen as a woman's problem," explains Khanna.
"I don't think in the beginning he started out by saying that he was going to do this for all women or for women in his village. I think his goal was that he wanted to find a way to get his wife sanitary pads because he was very afraid that she was using these un-hygienic rags and then it went on from that."
"He now sells his sanitary pad making machines all over India in rural places where women are earning livelihoods as well as getting access to affordable hygiene products."
The film stars Bollywood actress Sonam Kapoor, who explains that only 12 percent of women in Indian have access to sanitary napkins.
"And we have 1.6 billion people in our country. So that is crazy, the numbers that don't have access to sanitary napkins," she says.
Khanna hopes their movie can begin a conversation "where people realise, both men and women, that it's just a biological function."
"Taboos around menstruation are prevalent even now," says Khanna.
"This August, a 12-year-old girl was pulled up by her teacher because she stained her uniform and a bench with menstrual blood and she went home, jumped off a balcony, committed suicide."
"There was another story again of a woman in Nepal who was put in a menstrual hut. You know, they are segregated when you have your period and she died. There is so much shame."
"I'm hoping is that 'Pad Man' is part of a movement where women are no longer held back or embarrassed by their biology," she said.
The movie will be released in UK, Ireland, India, Sweden and USA on February the 9th and in other countries later this year