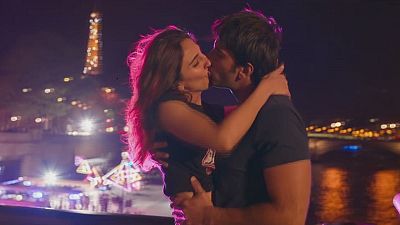 'Befikre' is a brisk romantic comedy set in Paris telling the story of Delhi born boy Dharam and French born Indian girl Shyra.
The film stands apart from other Bollywood releases because of its explicit reference to drinking and sex with the two stars believing the time is right for more racy movies.
"There's a change in society, I feel they are evolving and with them you obviously see the cinema evolving and the people who are making it evolving and people accepting it and being more liberal and lenient towards it," explained Bollywood actress Vaani Kapoor." "They are comfortable with their sexuality, speaking about their sexuality and they are, you could say in a way – and this is not a bad thing – less conservative and less traditional in that sense which I think is natural it is organic. It is something that is prevalent and so is reflected in the film Befikre," added Bollywood actor Ranveer Singh.
Je T'aime is stealing the hearts of many!! Have you seen it!!RanveerOfficial</a> <a href="https://twitter.com/Vaaniofficial">Vaaniofficialbefikrethefilm</a> <a href="https://t.co/t5rDvyd5Xv">https://t.co/t5rDvyd5Xv</a></p>&mdash; MangoBollywood (MangoBollywood) December 2, 2016
The attitude of India's Central Board of Film Certification, can be assessed when you learn that some of the scenes in James Bond's Spectre were cut because they were considered too explicit.
But in the end, despite all the passionate on screen kissing, chief censor Pahlaj Nihalani granted the movie a U/A certificate which means : unrestricted public exhibition subject to parental guidance for children below the age of twelve
"Whatever kiss there is in the film he has viewed it with its context not sans its context and so he understands and aligns with the vision of the filmmaker which is nothing dirty or offensive or cringe worthy about any of the kisses every kiss that's in the film, when you see it in context, you will see it as an expression of love and want and I am glad the censors have recognised that," said Ranveer Singh.
Befikre is essentially a story about two lovers who do not want to tag their bonding as a relationship, however, will both the characters played by Dharam and Shyra will fall in love with each other? You'll have to check it out yourself.