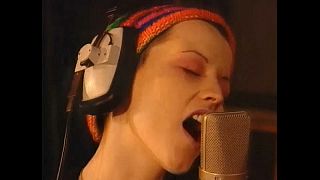 -
Cranberries singer Dolores O'Riordan's death is not suspicious, British police have confirmed. The 46-year-old Irish musician was found dead at the Hilton hotel in Park Lane, London, on Monday morning. She was due to record a cover of Zombie, one of her group's biggest hits, with the hard rockers Bad Wolves.
O'Riordan's distinctive Irish lilt and yodel helped fuel the Cranberries' rapid rise in the early 1990s with global hits "Linger", "Dreams" and "Zombie." The band went on to sell over 40 million records to become Ireland's second-best-selling rock band after U2.
Celebrities and Irish leaders have taken to social media to pay tribute to Dolores O'Riordan, the lead singer of rock group.
Her three Cranberries bandmates said in a tweet that they were devastated at the passing of an "extraordinary talent".
U2 said they were "floored" by the news in a statement posted on Twitter.
Irish Prime Minister Leo Varadkar in a statement described her as the "voice of her generation".
British pop band Duran Duran, whose tour manager, Don Burton, was O'Riordan's husband from 1994 until they separated in 2014 and was father to her children, said in a Twitter posting that they were "crushed" by the news.