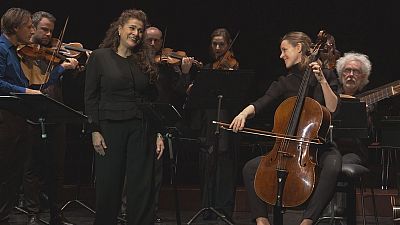 They are two of the most adventurous and captivating artists.
Italian mezzo-soprano Cecilia Bartoli and Argentinian cello virtuoso Sol Gabetta celebrate their friendship with a collection of Baroque masterpieces that showcase the stunning combination of voice and cello. They are accompanied by the period-instrument ensemble Capella Gabetta, led by Sol's brother Andrés.
Gemeinsam wagten sich Cellistin Sol Gabetta und Cecilia Bartoli an ein Duell. "Dolce Duello" heißt ihr aktuelles Album mit #Barockmusik von Gabrielli bis Boccherini. Auszüge daraus, dazu weitere #Arien und #Ouvertüren, präsentierten sie im #Musikverein. https://t.co/ggsVqmGHmy

— Alles Klassik (@AllesKlassik) 17 décembre 2017
Musica was invited to the rehearsal at Munich's Prince Regent Theatre.
"We had wanted to do a project together for years and finally we found it: music written for the voice, the cello and the orchestra."
Cecilia Bartoli, mezzo-soprano
"It's a programme based mainly on the beauty of melancholy but also joy in the repertoire."
Sol Gabetta, cellist
Inspired by the famous musical duels of the 18th century, the programme is entitled 'Dolce Duello' – a rather friendly contest of dazzling skill and virtuosity.
Working with a musicologist, the duo unearthed forgotten gems, including Antonio Caldara's aria 'Fortuna e speranza'.
"It's a very deep and melancholy aria. We are very aware of each other. "It feels like she starts a line and I resume the conversation. Then I sing my line and she picks up from where I left off."
Cecilia Bartoli, mezzo-soprano
"At that time the cello wasn't seen as a solo instrument, but more as a continuous bass instrument. The cello was often used to create harmonic structure, to back a singer, for example. But in these arias there is much more of a dialogue and it's the orchestra that supports us and that's interesting for that period in time."
The cello is often described as the instrument that sounds most like the human voice...
"I think it depends who is playing the cello."
Cecilia Bartoli, mezzo-soprano
"And it depends who's singing, that's for sure!"
Sol Gabetta, cellist
"When you talk about the cello's voice, you're talking about Sol's voice. It's the voice of her soul. The way she plays her instrument, it's like she's singing in the most sublime way. It's deeply moving."
Cecilia Bartoli, mezzo-soprano
"I was very inspired by Cecilia's voice. But it's not just about being a good singer, having a nice voice or the right technique… It's complex, it's the whole universe that is her personality."
Sol Gabetta, cellist
"When we play music together, live, it is always an unbelievable feeling!"
Cecilia Bartoli, mezzo-soprano
What a marvellous tour! Today was our last #dolceduello concert BerlinPhil</a> <br>I had a wonderful time with the most talented and inspiring <a href="https://twitter.com/solgabetta?ref_src=twsrc%5Etfw">solgabetta, the Cappella Gabetta and with our amazing audience! ?/CB pic.twitter.com/JpMLSPtdZq

— Cecilia Bartoli (@BartoliOfficial) 17 décembre 2017