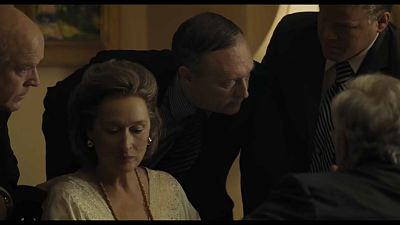 Steven Spielberg's 'The Post' has been named Best Film of 2017 by the National Board of Review.
The American drama starring Meryl Streep and Tom Hanks recalls the real-life story of the Washington Post's battle to publish damning information about the Vietnam War after a four-decade-long governmental cover-up.
Streep, who plays America's first female newspaper publisher and news editor Hanks also won awards for their performances.
The Post is now tipped as a contender at next year's Oscars.
The timing of the film's release is considered by many as an unsubtle nod towards current goings-on in the US political landscape.
The National Board of Review gave the award for best director to first-time filmmaker Greta Gerwig for Lady Bird - a coming of age story about a teenager's turbulent bond with her mother.