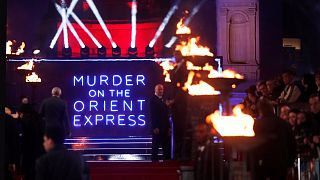 Agatha Christie, the author dubbed the 'Queen of Crime,' is returning to the big screen after a decades-long absence with an adaptation of Murder on the Orient Express, directed by Kenneth Brannagh.
This latest remake stars Brannagh as eccentric detective Hercule Poirot and boasts a star-studded cast including Judi Dench, Johnny Depp, Penélope Cruz, Michelle Pfeiffre and Willem Dafoe.
Brannagh says his film offers a different take on Christie's best-selling novel.
"Previous film versions have been romps and they've been wonderful," he said, "but it felt with this particular group of actors it could get a little more dark, a little more emotional and surprise and divert in a different way."
Actor Judi Dench said she enjoyed the experience of working with a large cast. "Yes, it was like a theatre company actually," she said. "A lot of us knew each other, we'd worked together before."
Kenneth Branagh took french lessons to get the Belgian accent of famed detective Hercule Poirot in the first big-screen adaptation of the novel since 1974 when Sydney Lumet directed Albert Finney in the role of Poirot.