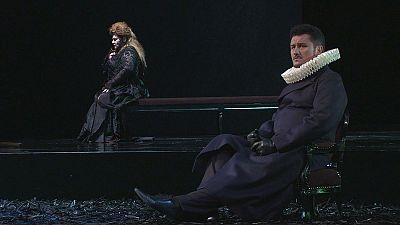 A three act tragedy sprinkled with comedy, Verdi's Un Ballo in Maschera – or masked ball – is one of the Italian composer's most acclaimed masterpieces.
At Barcelona's Liceu theatre, Polish tenor Piotr Beczala embodies brilliantly the main character, Riccardo, Boston's governor.
"It's a pleasure to sing this music, because Verdi wrote the score for my character Riccardo in an incredibly interesting way, says Beczala. "One goes from tragic to almost amusing moments."
"There's a wide range of interpretations."
Riccardo is secretly in love with Amelia, married to his most faithful lieutenant.
The latter, wrongly convinced that she cheats on him with the governor, will end up murdering Riccardo at a masked ball, making sorceress Ulrica's sinister prophecy come true.
"The most beautiful scene to me is the Ulrica scene, where Riccardo laughs at her prophecy, Beczala adds."
"Verdi's genius is in the way he wrote that part, making a light and amusing moment shift into seriousness. For me, it's one of the most beautiful moments in the opera, and one of the greatest challenge for a tenor too."
French stage director Vincent Boussard directed this shivering human comedy.
"It is not only about the ball at the end of the last act. Life is permanently a ball in which one moves in disguise. That is the meaning of this piece, Boussard explains."
"It's an oxymoron piece. Under lightness, lies the weight of a terrifying destiny, under the ball, under the masks of the ball, lie abysmal solitudes. There's always something that means the opposite of the other, the mask is used to talk about the truth."
Beczala adds: "What we're doing here, at Barcelona's Liceu, is timeless. It's a very good thing that the Stage Director's concept does not obscure the story. It's also a wonderful mix of a modern view of the opera and of a truly classical art of telling."
"And that's what I like."