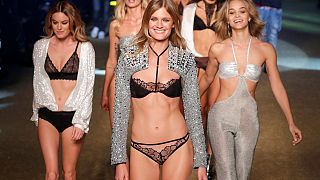 Finnish designer Tuomas Merikoski, who created the brand AALTO in 2014, wowed audiences at Paris Fashion Week with his fun, urban, brightly-coloured collection. He used draping and fluid lines adding a surprising splash of metallic pink and fuchsia. In line with his eco-credentials, Merikoski said his collection questioned the world and how we might improve the planet.
Over near the Champs Elysees, it was clear volume was key with a collection by Alessandro Dell'Acqua for Rochas featuring big ruffles that moved to different parts of the body, from high on the back to low on the waist.
There were brocades, jacquards, thick embroidery of sequins, Oriental flowers, silvers, royal purple silks and even a jacquard from an old Japanese kimono. Some were reversible, so that two apparently completely different dresses were actually made of the same material, inside out.
Lingerie brand Etam's latest collection was a mix of 60s retro and sultry lace with live music by British singer Anne-Marie.
The show's first theme showcased lace underwear, in black and khaki colours, followed by pieces centred on a hippie-style with flower-prints, bright aviators and high-waisted bikini bottoms.
Turning next towards a Japanese theme, models wore flowing geisha-style outfits and a sheer body suit decorated with colourful butterflies.
The show's finale, with models wearing lingerie, was inspired by a 'Queen of Pop' theme.