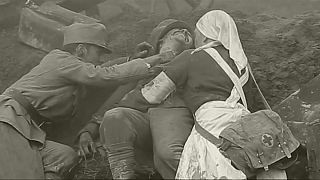 Krzysztof Zanussi is working on a new drama, set in the period before the First World War.
'Ether' explores the theme of mind control through science – through the story of a military doctor who carries out chemical experiments on patients.
"Today, when science brings us so many benefits and such threats – it seems to me this (theme) is quite relevant. Events take place before World War One on Ukrainian territory, which then belonged partly to the Russian Empire and partly to the Austro-Hungarian Empire. And we have both sides in the movie, but of course, the production location does not necessarily correspond to the scenario," said the Polish director.
'Ether ' is being filmed in Lviv, Ukraine. Its producer, Olga Fetysova, is Ukrainian. She said:
"Of course, it's scary to film a war when a (real) war is going on in my country Ukraine. But nevertheless, it's worth it. The film has potential and a message."
The collaboration between Poland, Ukraine, Lithuania and Hungary will be released in autumn 2018.