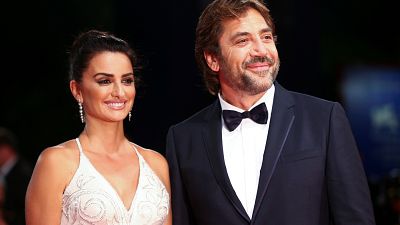 A glamorous couple both off and on screen, Penelope Cruz and Javier Bardem shared the red carpet at Venice for the out-of-competition screening of "Loving Escobar".
Fernando Leon de Aranoa's film is based on journalist Virginia Vallejo's book about her love affair with the Colombian drug lord.
At its peak, Pablo Escobar's Medellin Cartel is said to supplied 80% of the cocaine in the US, making him the wealthiest criminal in history.
Venice festival 2017 "Loving Pablo" Javier Bardem & Penelope Cruz. pic.twitter.com/aD7I5LlR5B

— Maki (@_marilenaki) September 7, 2017
Actor and producer Bardem said of his character that:
"He invented narcotrafficking, which is a huge business that creates a lot of harm and pain and murder every day. So, of course it's interesting as an actor to explore what is in that person's mind, coming from a very humble origin and becoming one of the most powerful men in the world ."
Penelope Cruz explained:
"For me it was very important that there wasn't gratuitous violence like in video games, that the world of drugs would not be portrayed as something glamorous or attractive and that in the scenes in which pain was portrayed, that pain was shown as real pain.
She said the transformation of her actor husband into a cartel king was a chilling one.
In real life her character eventually recoiled too, turning against her lover to collaborate with US Drug Enforcement Agency