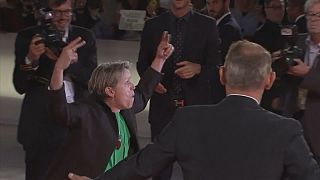 The latest stars on the red carpet at the Venice Film Festival include the main actors in Martin McDonagh's latest film, including Woody Harrelson.
Frances McDormand also stars in the drama called 'Three Billboards Outside Ebbing, Missouri'.
Sicilian director Sebastiano Riso also premiered his new movie, "Una Famiglia".
Micaela Ramazzotti and Patrick Bruel play a couple hiding a dark secret that becomes too much to cope with, eventually having to be confronted.
Director John Landis was also in Venice to present the new 3D version of Michael Jackson's music video Thriller.
''My only disappointment is that Michael's not here to see it and hear it, cos I think he would love it," he said.