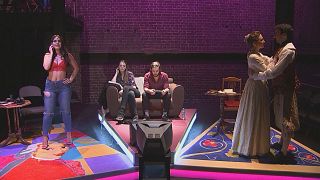 Opera meets soap opera in 'The Marriage of Kim' a satirical adaptation of Mozart's 'The Marriage of Figaro', based on American reality TV star Kim Kardashian's infamous 72-day marriage to NBA basketball star Kris Humphries. It combines their love story with Mozart's original Count and Countess and a contemporary couple.
"We've taken the music, taken the melodies, and reworked them, re-composed them in a contemporary setting, using Kim Kardashian's marriage to Kris Humphries as our sort of story to tell," explains composer and performer Stephen Hyde. "But we've set it alongside part of the original 'Marriage of Figaro' story, so what we're doing is we're comparing two love stories from completely different cultures, eras, generations, but sort of seeing some of the similarities that arise."
This is not a spoof of Kim Kardashian, say the creators, but a genuine love story with three couples from three different eras approaching boiling point as they near a break-up. They're hoping Kardashian will appreciate the humour and decide not to sue.
"All publicity is good publicity. I'm hoping she won't! I'm hoping she'll really enjoy it, but yeah – we'll find out," says Hyde.