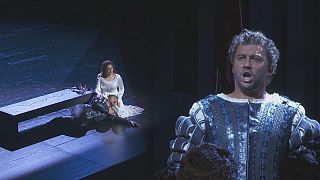 For the first time in thirty years London's Covent Garden opera house is putting on Verdi's Otello.
The masterpiece, based on the Shakespearean tragedy Othello, tells the story of a black general in the Venetian army who marries Desdemona, the beautiful white daughter of a Venetian Senator. Otello becomes consumed by jealousy after one of his lieutenants Iago cunningly convinces him that Desdemona is sleeping with another man.
"Otello is the great warrior, a man of tremendous success and the piece is about his trajectory starting here and being brought down by the smallest thing at first, a little doubt about his wife. Iago says 'well he saw her with Cassio, hummm very strange'… And from that little germ we see the catastrophe unfolding", Musical Director Antonio Pappano told Euronews.
The destructive nature of sexual jealousy in Shakespeare's play Othello has long been recognised as ideal for the emotional drama of opera. In fact Irish playwright Georg Bernard Shaw quipped: "The truth is that, rather than Otello being an Italian opera written in the style of Shakespeare, it is Othello that is a drama by Shakespeare in the style of Italian opera."
It's the first time that Jonas Kaufmann has taken on the title role, deemed to be at high risk for a tenor: "This part is difficult in so many ways. It is probably the second act which is the most demanding, only because it's there where the anger builds up. You really need to calm down and you really need to measure how much of this jealousy is actually causing trouble and how much is still under control."
"Well it is an Everest" added Pappano. "You need tremendous energy to conduct this music you must never get lazy or just luxuriate in it, it's not a piece for that, it's strict drama that must lead somewhere."