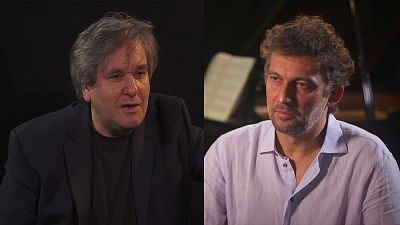 If Jonas Kaufmann has accepted the role of Otello, it's not surprising that Antonio Pappano is holding the baton. That's because the tenor and the conductor have regularly been working together for 15 years.
Antonio Pappano, ROH Musical Director, Conductor:
"Certainly the role of Otello, is a career defining role, and one must not take it on too early in one's career, nor take it on too lightly because although it is manageable when you look at it on the page and you say: oh yes this is singable. But when you put all the emotion and all the paranoia that goes along with the jealousy and the suspicion , the part all of a sudden becomes ten times more difficult, because it's like carrying a big weight on your shoulders."
Jonas Kaufmann, Tenor:
"It's always a crucial decision where you do it for the first time, with whom you do it for the first time. I mean you have to do it with people that you trust, that they will help you if you need, and that let's say come from the same side of interpreting music and Tony Pappano certainly is that type.
Basically you can try and make music starting from the structure of it and through the logic of the music come to a result. Or you can start with emotions and use the music as a vehicle of expressing emotions and this is the side I'm coming from and so is Tony."
Antonio Pappano:
"For the conductor, you have to be very sensitive to the singers' needs, to the pacing that they need to get through, but you also must guide them and work with them and coax them into giving off their most imaginative performances because this material needs imagination, and real interaction between the characters"