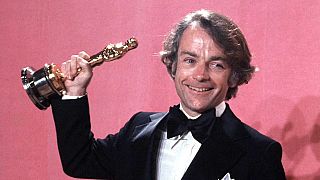 John G Avildsen, perhaps best known for directing Rocky and the Karate Kid films, has died at the age of 81.
His son, Anthony, confirmed the filmmaker had succumbed to pancreatic cancer at Cedars-Sinai Medical Centre in Los Angeles.
Avildsen won the Best Director Oscar for Rocky, a low-budget film written by the-then-unknown actor Sylvester Stallone. It went on to become a Hollywood franchise.
The film was shot on a budget of less than a million US dollars and completed in just 28 days. In an interview with Associated Press in 2014, the director said he was surprised by the response to the movie.
"When we were making the film original 'Rocky' in '75 in November in Philadelphia, we had no idea that any of this was going to happen. It was the furthest thing, we thought maybe it would be on the bottom half a double bill of a drive-in in Arkansas. We had no anticipation, so it was all a very pleasant surprise."
Avildsen also directed the 1984 box office hit The Karate Kid and its sequels.
He is survived by his sons Jonathan, Ashley and Anthony, and daughter Bridget.