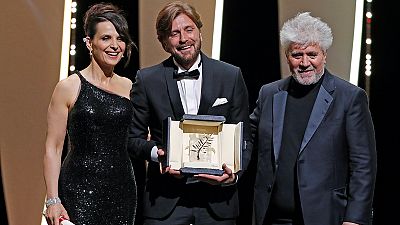 Jury president Pedro Almodóvar handed out the top prize at the Cannes film festival to Swedish satire 'The Square' by Ruben Östlund, calling it a rich and "completely contemporary" tale about "the dictatorship of being politically correct".
A satire of the art world, the film tells the story of a museum director desperate to make a success of his gallery, who stages a new installation called 'The Square' to promote it.
The movie is loosely inspired by some of the film director's own experiences.
''We aim to do a funny movie and at the same time deal with important questions and I am super happy that they picked this film, of course," Östlund told Euronews reporter Fred Ponsard.
The runner-up Grand Prix went to festival favourite '120 Beats Per Minute' by French director Robin Campillo.
A vibrant, passionate drama about direct action group Act-up and its fight to raise awareness and obtain treatment for HIV and AIDS in the early Nineties, the movie picked up four awards in Cannes including the top FIPRESCI Critics' prize.
Russian director Andrey Zvyagintsev was awarded the Jury Prize for his drama, 'Loveless', a chilling drama about a couple who are in the middle of a bitter divorce when their 12-year-old son goes missing.
Diane Kruger was awarded Best Actress for her role in 'In the Fade' by fellow German Fatih Akin.
It was the actress's first role in her native tongue. Kruger plays a woman seeking revenge for her husband's death in a terrorist bombing.
"There is a strength in my character, Katja, that frankly I wasn't sure I had in me, and, you know, Fatih saw (it) and he held my hand and helped me through this," she said.
US actor Joaquin Phoenix expressed genuine surprise at his Best Actor win.
"This was totally unexpected, as you can see from my shoes," said Phoenix as he picked up his prize, gazing down at the Converse sneakers he was wearing. "I don't wear leather and my shoes were sent home on the plane," he smiled.
Phoenix plays a war veteran who tries to save teen prostitutes from sex trafficking rings in Lynne Ramsay's 'You Were Never Really There', the last film to be screened in competition.
Sofia Coppola landed a historic win, picking up Best Director for 'The Beguiled' – a remake of the 1971 Don Siegel/Clint Eastwood film about a Southern all-girls school that takes in a Union soldier during the Civil War – starring Colin Farrell, Nicole Kidman, Kirsten Dunst and Elle Fanning.
Coppola became the second woman ever to win the prize in the festival's 70-year history – the first was Soviet filmmaker Yuliya Solntseva in 1961 for 'The Chronicle of Flaming Years'.
Best Screenplay was awarded jointly to Lynne Ramsay's 'You Were Never Really There' and Greek director Yorgos Lanthimos' controversial 'The Killing of a Sacred Deer'. Starring this year's celebrity Cannes duo Farrell-Kidman as a successful surgeon and his wife who are thrown into surreal circumstances after a failed operation, 'The Killing of a Sacred Dear' divided critics. It is Lanthimos' third film to premiere at Cannes: past entries 'Dogtooth' and 'The Lobster' won the Un Certain Regard and the Jury prize respectively.
Kidman was awarded a special prize on the festival's 70th anniversary, created specially for the Australian actress, who appeared in four films at this year's competition.
This 70th edition of the Cannes film festival brought together a specially rich selection of celebrities who gathered on the French Riviera to celebrate one of the most important events of its kind in the world.