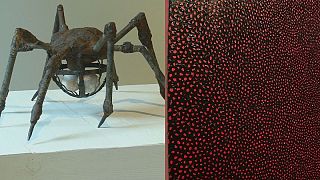 Two iconic female artists and how they turned their traumas in to art can be seen in an exhibition in London.
One is known for her "Polka Dots" art, Japanese artist Yayoi Kusama. The other is French American artist Louise Bourgeois, often associated with her huge spider sculptures.
The exhibition shows how both prominent female artists laid bare their own psychological traumas to open new territories for female artistic expression.
The two had psychological difficulties, they each underwent treatment for their psychological conditions throughout their lives.
"Bourgeois was in psycho analysis for 30 years. Kusama also had a diagnosis of hallucinosis, so she would see these visions of spots that used to encompass her vision and she felt very de-personalised for this.
'And, for both artists a means of getting over these traumas was to produce art and was to make things and to try and overcome and master their fears and traumas through the act of creation," said Emma Baker, Exhibit Co-Curator.
#YayoiKusama#selfportrait, 2008. #exhibition 'Traumata: Bourgeois/Kusama' opens #today at Sotheby</a>&#39;s S|2 <a href="https://twitter.com/hashtag/sotheby?src=hash">#sotheby</a> <a href="https://t.co/TusZNv8o1w">pic.twitter.com/TusZNv8o1w</a></p>&mdash; RB Prize (RBorchardPrize) February 24, 2017
The two artists were both profoundly affected by war, for Bourgeois it was the First World War, for Kusama the Second World War.
In their work they explored wider issues, such as gender and sexuality. Despite their difference of age and style, there are similarities.
"We have very repetitive forms in both artists' works. We have these kind of protrusions and these phallic forms that come throughout their oeuvre.
'And there are motifs that do repeat themselves, they might not be the same motifs, but they do repeat themselves in both artists' works. They're both dealing with the body and organic forms," explained Marina Ruiz Colomer, Exhibit Co-Curator
Both artists moved to New York to pursue an artistic career and are credited with empowering a wave of contemporary female artists.
While Bourgeois died at the age of 98 in 2010, 87-year-old Kusama is still making art to this day.
The exhibition 'Traumata: Bourgeois/Kusama' runs at London's S2 Gallery until the 13th of April.