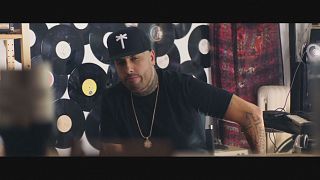 Nick Rivera Caminero or Nicky Jam as he is known by fans the world over has just scored his first No.1 in the Top Latin Albums chart with Fenix.
Nicky Jam's 'Fenix' Lands at No. 1 on Top Latin Albums Chart https://t.co/3g9CTbkI4Wpic.twitter.com/1EwgHCBbXE

— BoothLenders (@Booth_Lenders) February 5, 2017
It is the 35-year-old's first studio album for 10 years and marks a personal restoration for the singer who is best known for his song 'El Perdon'.
"People write to me and say, 'Nicky Jam the Fenix bird. I respond, 'the fenix bird, why this bird?' I followed it up and realised that it is mythology about a bird that came from out the ashes and re-emerged. So I said this resonates with me. So I called the album Fenix and I also called my tour Fenix. The people gave me that," he explained.
Success and fame had come early for Nicky Jam and after struggling with alcohol and drug problems he hit rock bottom. He lost all his money and a stint in jail followed.
The singer moved to Colombia in 2010 and started the climb back up the musical ladder.
"I came from failure and I was used to it, so for me it was unbelievable that good things could happen to me. And I believe that same situation is what has helped me to have my head up. And I have my feet on the ground. I have to value that God has given me a second opportunity," he pointed out.
Now just a couple of months into 2017 the reggaeton singer has already hit significant professional and personal heights, including nine Billboard Latin Music Award nominations and his feature film debut alongside Vin Diesel in "XXX: Return of Xander Cage".