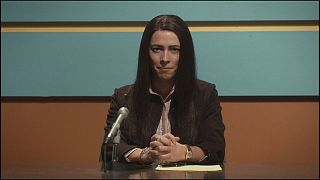 More than 40 years after her death, Antonio Campos tells the story of Christine Chubbuck, a news anchor in Florida who shot herself on live TV in 1974.
It's about someone who has a lot of character and a lot of spirit

Actor
Revisit the Case of Christine Chubbuck, the Reporter Who Shot Herself During a Broadcast https://t.co/ibeYAqp5MC (VIDEO) pic.twitter.com/IqxlhwDLNR

— Mediaite (@Mediaite) October 22, 2016
The movie, starring British actress Rebecca Hall , traces the months
leading up to the suicide of the 29-year-old journalist including awkward interactions with colleagues and a news director who pushed her to cover more crime stories.
"This film is about someone who commits suicide but it is not a film that revels in darkness. It actually has a lot of light and life because it's about someone trying to live. It's about someone who has a lot of character and a lot of spirit – a lot of strangeness, sure. She's eccentric, she's different. But it celebrates that, the good aspects of her," says Hall.
The incident in part inspired screenwriter Paddy Chayefsky for 1976's 'Network', Peter Finch's last film, for which he won an Oscar. The film won three others, including best screenplay, and in 2000 it was selected for preservation in the US National Film Registry.
From the outset of 'Christine', which earned raves for Hall's performance at the Sundance festival, with Variety's Guy Lodge calling her "discomfortingly electric", Campos depicts Chubbuck as a perfectionist with ambition to succeed in the male-dominated business of broadcast journalism. Her major hindrance: she lacks the requisite on-camera appeal that her job calls for – a factor everyone but her can see.
It was a very challenging part for the 34-year-old Hall, who says she felt despair when she had to film the crucial scene, but she has pedigree as one of Royal Shakespeare Company founder and renowned stage director Sir Peter Hall's six children.
"In a way, I think that I knew and everyone on set knew that we were doing our job correctly. Because we had all developed a lot of care for the character that I was walking around pretending to be, and her story and presenting her story. So when it came to the day that we had to do that, it was really hard because none of us wanted to kill her — myself included."
Antonio Campos's moody character study, which also stars Michael C. Hall, is already getting Oscar buzz and has been out in the US since mid-October.
The subject is also treated by another biopic, 'Kate Plays Christine' by Robert Greene, an arty documentary about an actor struggling to inhabit Chubbuck.